STRATEGIES FOR DEALING WITH OPPOSITION AND OUTRAGE IN PUBLIC PARTICIPATION
A Risk Communication and Conflict Resolution Online Training Course
NOTE: This course was recently updated and renamed, previously titled: Emotion, Outrage and Public Participation.
Public anger and resistance is now a fact of life in government The relationship between public and private institutions and the people that they serves is significantly broken and repairing that rift will take time and a very different approach than the one that got us here. Polls and other research find that people are more hostile and defiant of large institutions now than they have ever been.
Angry people can't represent their interests very well, working with emotional citizens is often impossible and ignoring their resentment isn't productive.
More than just another off the shelf class in conflict resolution, the retitled Strategies for Dealing with Opposition and Outrage in Public Participation helps people understand the human behavior and emotional intelligence of working with angry and cynical people under these tough circumstances. Doing this with skill is foundational to the practice.
Conflict resolution training is needed to address the increasing trend of public anger in society. Growing global citizen outrage causes government gridlock, lawsuits, stopped projects, us vs. them attitudes, destroyed credibility, loss of time and money, and violence. The updated Strategies for Dealing with Opposition and Outrage in Public Participation (formerly called Emotion, Outrage and Public Participation) is a conflict resolution training workshop that builds on IAP2's global best practices in public involvement, the work of Dr. Peter Sandman, a foremost researcher and expert in public outrage and risk communication, and decades of lessons learned. This course reconfigured for an online delivery will help you move people from rage to reason and engage stakeholders in building consensus for better decisions.
This conflict resolution training workshop is for:
Technical experts (environmental engineers, scientists, technical project managers and others) who want to understand the public and their behavior and prepare for project success.
Communication professionals.
Anyone responsible for communicating with the public or specific communities about projects that impact them.
Managers who recognize the importance of developing their teams' communication skills in advance of a crisis.
This training workshop will help you:
Identify, assess and truly understand the root causes of public frustration, anger, and outrage.
Understand 12 factors and reasons for people's negative emotions and be better able to predict and prevent public anger.
Recognize different approaches for the 4 kinds of risk communication.
Learn the 6 primary ways to prevent or reduce public rage to make room for reason, and to allow effective, lasting, authentic public engagement to take place.
Behaviors that reduce and manage public opposition.
How to use outrage management in public participation plans.
Specific tools & techniques for working with the angriest people.
Better stakeholder analysis and motivations.
Ways to remove internal barriers to outrage management.
How to ask questions with value and empathy.
Who should do what in the process.
How your attitude impacts public and stakeholder anger.
This practical, online workshop is a fresh, two-day mix of lecture, video, small and large group discussion, and authentic, real-world exercises that give you the tools and ability to manage the toughest public issues that you face and help you move your projects forward.
You'll see the public that you deal with in a different light, you'll understand their motivations and work with them more effectively. This work has never been more important than now.
| Class | | | |
| --- | --- | --- | --- |
| Strategies for Dealing with Opposition and Outrage in Public Participation | 4 x 3 hour sessions | $750 | $625 |
The Participation Company offers a discount to active members of AICP, IAP2, ICMA and NCDD.
Strategies for Dealing with Opposition and Outrage in Public Participation (Four- 3.0 Hour Sessions) Member Rate = $625 through the last day of registration.
For member discounts to apply, you must note AICP, IAP2, ICMA or NCDD and Your Member ID# in the COMMENTS box on the registration form, then choose the appropriate price level at checkout.
International Rates and Registration
(For those with a mailing/shipping address outside of the US.)
USPS, UPS and FEDEX will no longer guarantee shipments within their specific delivery schedules due to COVID-19. The sooner you register the more likely you will receive your manual(s) on time. Also the rates to ship are 4-5x more costly than shipping within the US, therefore anyone registering with a shipping address outside of the US will pay an additional $50 to cover a portion of the additional shipping fees. All participants with a shipping address outside of the US must be registered and paid not later than 15 Business Days in advance of the training event.
The week prior to training you will receive a manual and and an email with login instructions. If you need assistance, please contact us: 218-422-6432 or [email protected].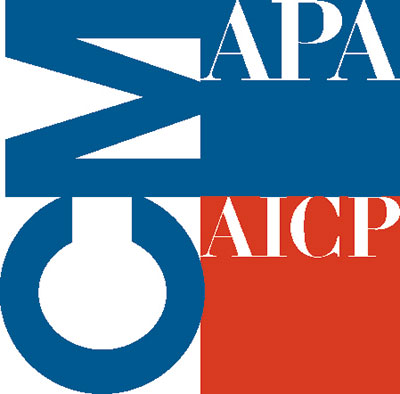 AICP members can earn Certification Maintenance (CM) credits for this activity. When CM credits are available, they are noted at the end of an activity description. More information about AICP's CM program can be found at www.planning.org/cm.
AICP Credit CM I 12