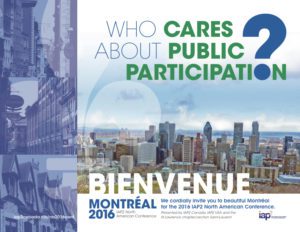 This summer, we surveyed IAP2 leaders and practitioners about the condition of our field in 2016, and the public participation survey results are in.
In fact, we presented those today during our 2016 IAP2 North American Conference session, titled "Over Our Dead Body."
If you were in attendance, you might want to refer back to the public participation survey results in detail. And for any practitioners and leaders who were not able to make it, we invite you to peruse – and use! – the results. This survey of 233 respondents examines the state of our union and contrasts differences and commonalities in various geographic areas of practice.
The results summary can also be found online here or you may download the PDF with the full summary results.
Feel free to use the data as you wish, but please let folks know where you got it and its obvious limitations.
Some important contextual notes:
Most importantly, we don't claim to have statistically significant data. It was not really our goal and we did not have the funding or resources to do so.
We created a series of questions that piqued our curiosity as long-time public participation practitioners.
We were looking for input from our peers who are conducting this work.
We reached out to our own professional network, IAP2 USA and Canada, and the NCDD.
Our goal was to gain some insight about how the forces of Internet technology and partisan politics over the past decade or so are changing our practice.
And to start a conversation so that we can enhance our understanding and improve as a community of practitioners.
Overall, we find the public participation survey results heartening. Rather than describing a diminished role and importance of P2 in the face of many challenges, respondents noted that agencies who use public participation continue to work hard to use and promote public input in the important work of governing. While none of us are blind to the challenges, this certainly aligns with our own experience.
Over the coming weeks, we hope to look deeper into this information following our conversations at the IAP2 Conference and beyond. We will be blogging about our own insights and conclusions right here and to stay involved in the conversation, we invite you to subscribe to our updates using our contact form. We hope to continue to hear from folks about how we take this great profession into the 21st century.
Thanks to everyone who responded. We hope you find something of interest in these results.
About the Authors:
Both long-time consultants, Doug Sarno is the former executive director of IAP2, and John Godec is a former board director and vice-president. Both are IAP2 lifelong members, original Master Trainers and developers of the Foundations and Emotion and Outrage courses. They've managed hundreds of projects, facilitated thousands of meetings and training workshops and worked in dozens of countries. Godec and Sarno are two of the first three people designated by IAP2 as Master Certified Public Participation Practitioners (MCP3).
Questions? Contact Doug Sarno ([email protected]) or John Godec [email protected]).