Our work of encouraging collaboration, bringing consensus to projects, and resolving conflict has led us to work with clients in government (such as federal agencies and state, local and tribal government clients), as well as private sector clients, resulting in risk mitigation.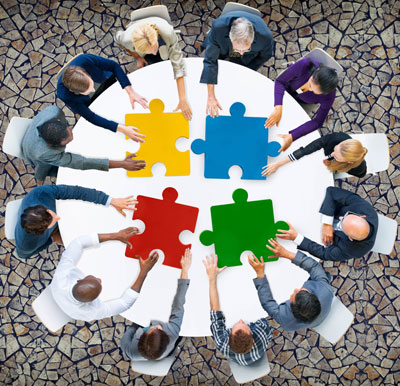 TPC serves as a catalyst for conflict and alternative dispute resolution globally. We provide federal agencies with information about the full range of options available in order for them to make informed choices in accessing conflict resolution skills, training, and services to resolve, manage, and stabilize conflicts. The challenges and difficulties involved require understanding and the use of peaceful means to resolve conflict and achieve risk mitigation.
Some of the federal agencies we assist include:
Environmental Protection Agency
Department of Defense
Department of Interior agencies (all)
Department of Agriculture
Department of Energy
Army Corps of Engineers
Department of Transportation
National Institutes of Health
National Oceanic and Atmospheric Administration
We are proud to be a partner in the Kearns & West team supporting the Department of Interior's Office of Collaborative Action and Dispute Resolution and a member of CSRA's team providing wide-ranging services to the U.S. Environmental Protection Agency's Conflict Prevention and Resolution Center.
Selected State, Local, and Tribal Government Clients
Local, regional, state, tribal, and federal transportation, public health, wildlife and land management, water management, and environmental regulatory agencies; Western Governors' Association, utility regulatory commissions; and private and public sector clients in almost every state in the U.S. as well as Canada, Mexico, the Caribbean, Europe, Africa, Australia, Malaysia, Thailand, the Kingdom of Jordan, Republic of Georgia, and others.
TPC is also honored to partner with the International City/County Management Association (ICMA) Center for Management Strategies as a practice leader in Civic Engagement.
We work with many Fortune 500 companies in the fields of electronics, communications, mining, utilities, oil and gas, waste management, manufacturing, and transportation, as well as smaller local firms engaged in these activities. We have comprehensive expertise with architectural and engineering firms and select clients include:
Fluor Daniels
URS Corporation
DMJM+Harris
AECOM
Morrison Knudsen
We've also worked with many state and local-based engineering and environmental companies, leading to significant risk mitigation.