CASE STUDIES FOR CITIZEN ENGAGEMENT
Most of our work involves highly-charged, controversial, and complex community concerns about proposals that affect people's lives, make major social and infrastructure changes, and determine the long-term future of communities and organizations. The best way to understand is to read about some of the successes we've had with clients. Here are three examples from transportation, mining, and environmental protection engagements.
Quelling Public Anger with State Transportation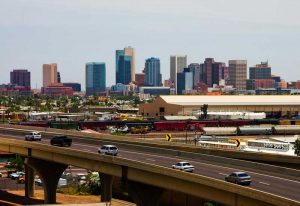 Arizona Department of Transportation (ADOT), the state government agency charged with facilitating mobility within the state, had proposed design modifications for a new Phoenix metropolitan freeway arterial connection that would have required an elevated structure. This proposal was met with an angry response from very vocal neighborhoods impacted by the project – which was supported by an equally angry Mesa, Arizona City Council. The project design and construction was halted until a resolution could be found. Positive citizen engagement was needed before the project could move forward.
TPC principals were engaged to analyze the history of the situation, past promises, current conditions, and the community's response. This particular community was made of people who were exceptionally distrustful of government because of their faith-based and cultural history, as well as poor past experiences. With persistence and "shuttle diplomacy," we were able to convince one or two people to talk with us, which grew to a small group and eventually became a dialogue with a community. In a facilitated process, TPC was able to find a technically feasible, economically viable, environmentally compatible, and publicly and politically acceptable solution. The Mesa City Council praised the solution. The community was not only actively engaged in the decision, but recommended the final solution that was ultimately adopted, designed, and constructed by ADOT.
By facilitating a lasting solution to an intractable problem, TPC was not only able to provide a short-term benefit, but has also supported ADOT on conflict prevention and resolution for a variety of contentious issues, as well as public engagement, information, facilitation and training for a wide range of polarizing agency projects for many years.
Would you like to be a success story? Schedule a meeting to leverage our experience in your organization.