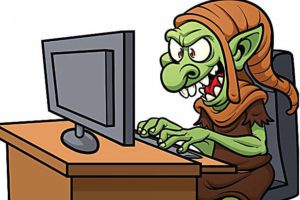 The dictionary defines the verb trolling as making "a deliberately offensive or provocative online post with the aim of upsetting someone or eliciting an angry response from them." We all experience this and the more we use online dialogue and public input in community involvement, the more doors we open to these trolls to disrupt the process and potentially alienate well-meaning participants.
Two studies published in Psychological Science looked at people's Internet commenting styles seeking to better understand the underlying psychology of the commenters, particularly those who enjoy trolling. The studies revealed a strong relationship between trolling and what psychologists call the "Dark Tetrad" of personality: sadism, narcissism, psychopathy, and Machiavellianism. Of all personality measures, sadism showed the most robust associations with trolling. The study author concluded that cyber-trolling appears to be an "Internet manifestation of everyday sadism."
So how should we respond?
Psychologists would suggest that we don't. Encouraging community involvement by having commenters not respond to trolls at all can aid in fewer trolling in the future. Sadists get pleasure from your suffering, so ignoring them denies them this pleasure. When we design online community involvement programs, we like to take this a step further. First, always establish ground rules of civility online, much the same way we do in facilitating any in-person meeting. These online ground rules need to be very clear and specific and also describe the actions that will be taken with the offensive comments (generally their removal).
Whenever I remove a comment for cause, I always replace it with a statement to the effect of "This comment was removed for failing to meet the code of civility clearly identified on this site. We encourage the author to comment again to make their substantive points without insulting other participants of this dialogue." There is not much pleasure in that. However, if your trolls enjoy having their offensive comments removed from a site, then I can't really help.
Author: Doug Sarno